My Approach
Bring me your feet ~ Your body and I will do the rest.
I have an intuitive reflexology style, which I will adapt to your individual needs and requirements, focusing on any specific problems or issues you may have. As reflexology is a holistic therapy, I will also aim to significantly reduce stress levels and achieve a much greater sense of wellbeing for you. I have a holistic approach to health and healing and understand that for optimal health and performance it is key to create balance within the body.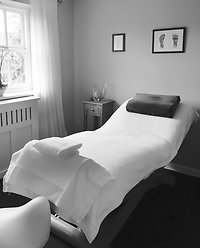 What Does a Treatment Entail?
When we are ready to start your treatment, I will make you blissfully comfortable on my fully adjustable treatment couch. I will then wipe your feet with a soft cotton cloth before applying some naturally scented organic lotion, this will aid the movement of my hands over your feet. You may wish to close your eyes and relax at this point, or you might prefer to chat during your session, this is entirely up to you.

Your reflexology will begin with some gentle foot relaxation techniques. This will be followed by a one hour treatment during which I will apply gentle pressure to the reflex points on each of the feet in a specific flowing pattern. It should be a relaxing and enjoyable experience. However, sometimes a fleeting feeling of tenderness may be felt in a certain area. This is an indication of an imbalance within the body. I will gently work on these tender areas, releasing any imbalances, loosening tensions which in turn will help the body restore its natural equilibrium.

After your treatment, I advise you to drink plenty of fresh water to help flush toxins from your body. I also recommend that you avoid alcohol on the day of your treatment.

The regularity of your reflexology sessions will vary depending on your requirements. After your first reflexology session we can discuss this and devise a treatment plan that will suit you. Treatments provided for children or anyone seriously ill may be shorter and more frequent. With all my appointments, I will customise the treatment plan to meet your needs.

I look forward to welcoming you and guiding you towards your footpath to better health.

Lucy